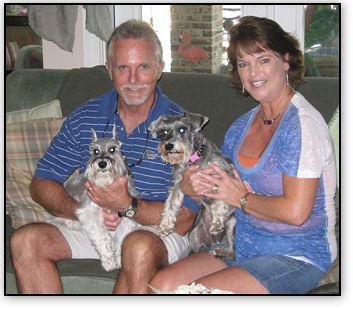 NELLY
Nelly was fostered by Dave & Lesli in the northeast Florida. She enjoyed learning to be a "schnauzer" again and playing with her 3 other fur sisters, but the ultimate dream was to find a family to call her own. 

On October 1st, she found her forever home with her new parents John & Lisa, and fur sister Maggie. Nelly now calls Lakeland, FL home. She has worked her Nelly "magic" convincing John & Lisa that she wanted to sleep in their room.

As you can see by the smiles everyone is happy with this match; Nelly has the family of her dreams. John is holding Maggie and Lisa is snuggled with Nelly.

BE HAPPY NELLY…You Deserve It!!!