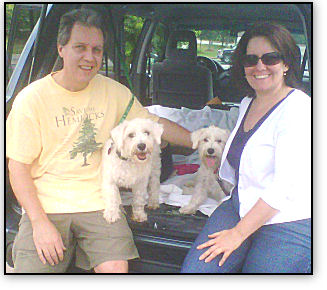 MATTIE & NELSON
Mattie and Nelson were fostered in TN by Lynn Bradford until their adoption.  This young brother and sister duo needed to find a forever home together.
Chris and Pam saw these sweeties and became very excited to become their new mom and dad.  They did not let the fact that the pair was almost 12 hours away stop them.  Fortunately, Karen R. helped with transport to get them to Atlanta.
As you can see by the smile on all four faces everyone is happy with the match, and there is no doubt there will be lots of smile and wagging tails in this now twice blessed schnauzer forever home.
THREE CHEERS 4 MATTIE & NELSON!!!