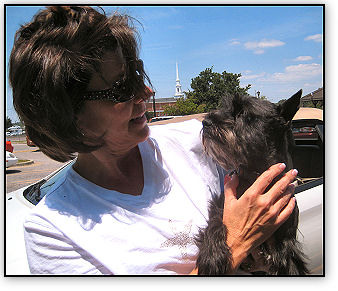 FLINT

Flint was fostered for a short time by Mark and Diane in Ocean Springs, MS. His foster mom started looking at potential homes right away because she knew if he stayed much longer, he wasn't going anywhere!

Linda was looking for a companion for their other rescued schnauzer, Scottie. Flint fit the bill perfectly! From being placed in a drop box at a Mobile shelter to driving to his forever home in a pretty white convertible on May 7, 2011 – we think Flint hit the jackpot – and his mom is pretty happy too!
HAPPY TAILS, FLINT!!!