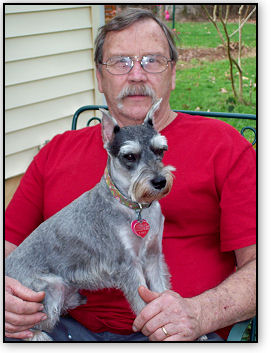 LEE now CODY LEE

Lee was lovingly fostered by Joan and Paul in Marietta, SC.
Shortly after New Year's, Cody-Lee, aka. Lee, went to his forever home with Glenda and Tim. Cody-Lee was overjoyed to find his new family and as you can see from the picture, he already has Tim, his best buddy, wrapped around his little paw. Cody-Lee is a perfect example of how a homeless stray, matted, smelly and on death row, can be transformed into a beautiful loving companion and family member. Cody-Lee can certainly look forward to many happy years with his new family.

YOU HIT THE JACKPOT, CODY-LEE!!!