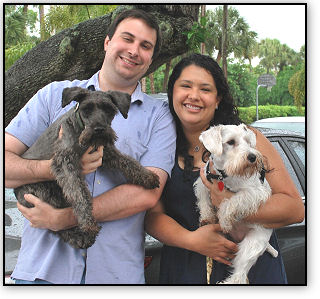 SCOOTER
Scooter was fostered in Titusville, FL, by Nancy and Edwin Loftin.  He was adopted on May 5th by Jacqui and Mike (and Bean) of Miramar, FL.  Pictured are Bean, Mike, Jacqui, and Scooter (white schnauzer).

Jacqui and Mike have reported that Scooter is doing great.  Saying they thought having one schnauzer was a lot of fun, but having two is even better.
Both of the boys have been learning to play together. Scooter has not only been an excellent friend to Bean, but a loving boy to the humans in the family too. They say adding Scooter to their family was a great decision
TAIL WAGGING DAYS AHEAD, SCOOTER!!!