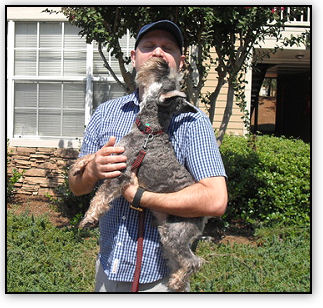 LOUIS
Louis was lovingly fostered by Lauren in Georgia.  He was one of two schnauzers abandoned in a back yard and then kept for a while by a caring neighbor until SLR took them in.
Now Louis has a new start and a wonderful new home with Scott in Atlanta.  As you can see from the picture, Louis likes his new dad a lot. Interestingly enough, Scott was wanting to name his new dog Louis when he got one, so it is certain this match was meant to be.
HAPPY DAYS ARE HERE AGAIN, LOUIS!!!