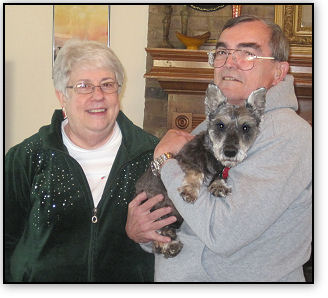 BANDIT

Bandit was fostered by Patty and Andy Riehm in Georgia. He is such a sweet cuddly boy and added so much joy and love to their family while he was there. He was in pretty rough shape when they got him, but with a little care became a beautiful, healthy, happy dog.
His new parents, John and Kathie, are thrilled to have him in their family. Bandit is equally thrilled and will eat up all the attention he will get there.
HAPPY DAYS ARE HERE AGAIN, BANDIT!!!