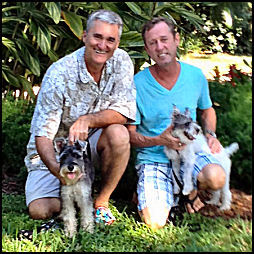 BAXTER

Baxter was lovingly fostered by Penny, in Winter Garden, FL.
Baxter came to SLR as an owner-surrender. He knew he met his Forever Family, when he met Neil and Ken of Palm City. Baxter is thrilled to have his fur sister, Molly, to run around the backyard with. Baxter also gets to spend some time with Neil during the day at work. He's a 'big draw' at the Art Supply Store. Baxter is thrilled that he chose Neil and Ken for his forever home!
Baxter is in front of Neil and Molly is on Ken's Lap. Smiles all around!