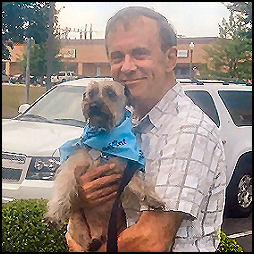 BOGIE

Little Bogie was adopted on June 27th by Reed in the Birmingham area. Bogie, who is only about 14 lbs, has a new fur brother about his age, who is a a Lab/Dalmatian mix. Reed reports that the two boys met, sniffed each other and both went to opposite ends of the room.
When Bogie met his new Dad yesterday, he was happy to see that Reed had treats for him...definitely the way to get to Bogie's heart!
Happy tails to you, Bogie!