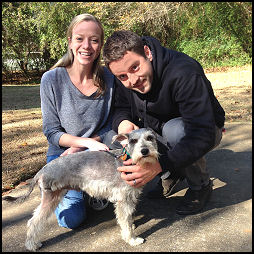 TRIPP

Tripp, lovingly fostered by Michelle in Indian Springs, AL, got the best Christmas present when he was adopted by Jeremy and Ginny. They said they loved Tripp's smile the minute they saw him on SLR's website. Tripp, on the other hand, knew that they were his mom and dad forever, and greeted them with tail wags and loves.
Life wasn't always smiles and tail wags for Tripp. He is what rescue is all about. When he came into rescue as a stray, he was a mess. Our rescue vet diagnosed him with a lot of problems, any one of which was bad, but all together, would take a lot of time, effort, and fundraising to make Tripp's road easy. Scabies made his coat and skin a scaly mess. Normally, our vets treat this with heartworm medication. BUT...he was heartworm positive, and his blood tests showed that there were a lot of those little critters in his heart. Added to this, in his wanderings, someone shot him in the hind leg, and the scar tissue and old fracture were so bad he had to have his leg amputated.
So began Tripp's trip back to health. Our vets in Mobile, AL treated his scabies and amputated his leg. Once he was out of quarantine, he was transported to Birmingham, AL, where our vet began his heartworm treatments. Always dangerous for dogs, Tripp developed a complication during his heartworm treatment, and ended up back at the vet for a couple days. After that, it was smooth sailing.
His foster mom fell in love with his soulful eyes in his first picture. What she didn't know was that underneath that soulful expression was the heart of a stinker! He very quickly showed her how little he'd gotten to play when he was young. Toys with squeakers became shredded while he gleefully wagged his tail at her. He Roo-Rooed for supper – and sometimes, at 5 am for breakfast. Bit by bit, his impish and sweet personality began to come out. When he went to his forever home, he'd begun to play with the resident schnauzer, give spontaneous kisses to the two-footed child , and poke Michelle with his nose when it was time to play.
Tripp's trip is the reason SLR exists. It is the reason that everyone involved – foster parents, home visitors, phone interviewers, web masters, and monetary donors too numerous to mention – volunteer. Tripp is truly, a happy tail!