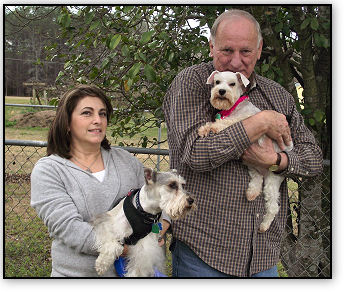 DAISY MAE

Daisy Mae was lovingly fostered by Angela and Scott Charters in Bonneau, SC. She was adopted by Bruce and Vilma. She is pictured here with her new Dad holding her. Vilma is holding her brother, Tango who they also adopted from SLR last year.
Daisy has made herself right at home, and she is Bruce's new little baby girl! Tango is learning to share the attention and he has even allowed his new sister to share his bed.

HAPPY EVER AFTER, DAISY MAE!!!