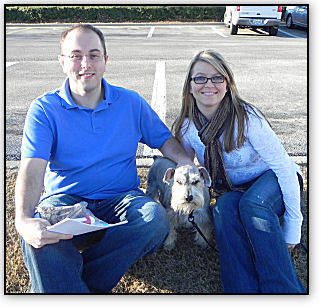 BENTLEY
Bentley was lovingly fostered in Mobile, AL. by Chris and Kristin. With the coordination of Chris and Kristin, Jan, and Marty and Bob, Bentley was able to meet his new mom, Andrea, and new dad, Michael, in Birmingham. However, Bentley was not through traveling, as he will be making his forever home with them in Hermitage, TN (Nashville area).

As you can see in the picture, Bentley took to both Andrea and Michael right off! Bentley is doing great and has settled in to his new home.

THREE CHEERS FOR BENTLEY!!!