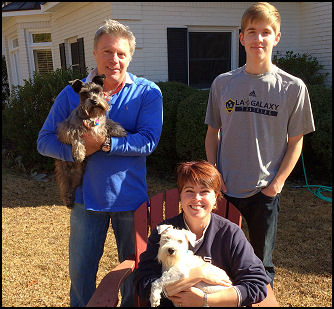 BAXTER

Baxter was fostered by Matt and Danny in Odenville, AL. Baxter came from the Pell City Animal Shelter. He was covered in mats, dirty, and he was very apprehensive of humans.After a good grooming and full vetting Baxter blossomed into a handsome, new dog. 

After meeting Baxter, the Armstrong family  knew he was a perfect fit for them. Baxter now has a new fur sister, 2 cats, 3 kids, and 2 new parents to love. The great news is he made himself at home immediately! Baxter is pictured here with a few of his new family members.
NOTHING BUT BLUE SKIES FOR BAXTER!!!