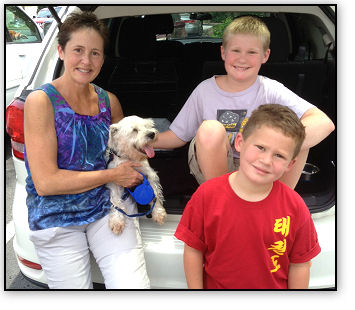 GINO now SEBASTIAN

Gino, now Sebastian, was adopted by Michael & Debra of Knoxville, TN. He was fostered by Rachel & Joseph in Cordova, TN. Gino was one of four dogs surrendered by an owner in Arkansas, and he has been a good boy from the very start. Now he has new parents and two boys of his very own to snuggle with. 

If this letter from his new family is any indication, he's going to be even more spoiled in no time! "He's doing so incredibly well, and has adjusted ridiculously easy and spends a lot of time next to my eldest son on the couch getting his belly rubbed!  We are so very happy with him!"
YOU HIT THE JACKPOT, GINO!!!