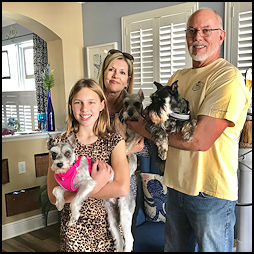 ANNIE & APOLLO (now JACKSON)
Annie & Apollo were lovingly fostered by Joy & Ed in FL.
Beverly & Greg stated that this dynamic duo moved right in and are delighted to have an older canine sister, Sydney, in the house. They are enjoying their backyard and love their walks in the neighborhood. Annie & Jackson especially like it when the grandchildren throw the ball so they can retrieve it. This adorable pair still cuddles up together in the same big dog bed every night.