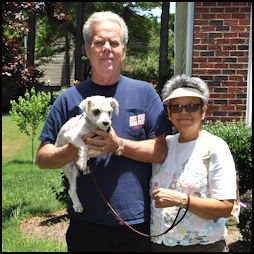 MONKEY now MISSY CHARLOTTE

Monkey was lovingly fostered by John and Karen in SC.

Monkey, now known as Missy Charlotte, is living a salty beach life with Yvette, Bob, & new fur brother Ulysseas. Yvette is happy to report that Missy Charlotte and Ulysseas are two peas in a pod & are together all day long - playing, chasing one another, eating meals & when groomed. Missy behaves really well during our walks. She has an easier time meeting other people & dogs than Ulysseas so he has some learning to do from her. Everybody loves her & she accept lots of kisses and hugs. She especially loves it when my daughter holds her. She's very attached to Bob. Only sunny skies and sandy toes for this family.