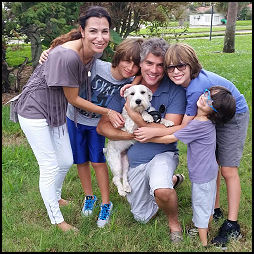 OTTO
Otto was lovingly fostered by Erika, in Cocoa Beach, FL.
Otto was thrilled when he met his Forever Family, Jason & Laure & their (3) sons of Boca Raton. The boys and Otto were able to run around the park together to get to know each other while mom & dad did the paperwork. Otto was so exhausted from such a fun time, that he slept on the lap of one of his human brothers on the drive home.
Jason cannot believe how well behaved, sweet and smart Otto is. He understands all of his commands, including 'Leave It / Take It' when it is treat time. No training needed for Otto! Thank you to Jason's sister, who is an SLR adopter, for having him contact us.