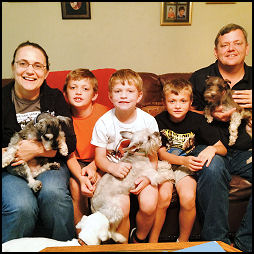 ANNIE and REMINGTON
Annie & Remington were fostered by Betty & Bob, in Tallahassee, FL.
Annie & Remington are a bonded pair. They came to SLR when their owner could no longer care for them. They had lived in a kennel most of the time. They are thrilled to be with their new family, Amanda, Bill and their three sons. They now have a yard and a fence with lots of exercise time. Shy Annie has chosen to sleep in the master bedroom while outgoing Remington chose to sleep in the boys' bedroom. Amanda states that, "They are the perfect fit for our family. We are in love!"
Mom and Dad are holding Remington & Annie.