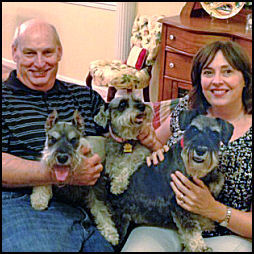 BEAU now FINN

Beau is a beautiful salt and pepper, two-year-old schnauzer, who was an owner surrender and fostered by Becky in Birmingham, AL. He quickly found his new home with Janis and Steve also of Birmingham.
"He is a perfect match for our family. We wanted a companion for our schnauzer, Dutch, and Beau (now Finn) is absolutely that perfect match," said Janis Since Finn was adopted, Dutch and Finn have played and rested, and played some more! Congratulations to Beau, Dutch, Steve, and Janis!
Pictured: Steve & Janis with (l-r) Beau, Sadie (foster), and Dutch.