Max

Max - 
October 16, 2008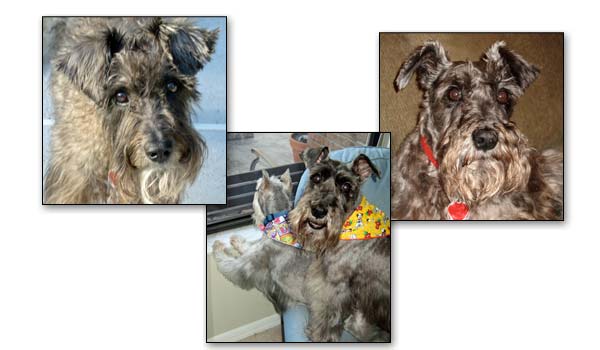 Catriona & Travis Sherwin's "Max"
Max joined our family in June 2004. His previous owners had left him tied to a tree when they moved away from their house in Alabama. How they could so cruelly abandon such a big sweetheart is beyond our comprehension. 
The day we adopted Max was memorable. We drove down to his foster home, bringing our four-year-old schnauzer with us. It was a noisy, chaotic meeting: four adults and four dogs in a small apartment living room. My husband sat down on the couch to get out of the way.. Max took a look around the room, and, seeing all the other humans were already taken, immediately jumped up on the couch right next to Travis and claimed him for his own!
Max needed lots of TLC when he came home with us. He was fat (30 pounds!), so fat his hind end looked like it sported a big belly button rather than a short tail. He had to be crate trained, and he really wasn't interested! He needed to learn to trust his new home, and not bite visitors. 
Our boy did so much more than we asked. He taught his younger "brother" Titan how to wrestle. He sang (well, howled) for his supper. He encouraged my sewing skills through his determined shredding of stuffed animals. He entertained us by tossing balls to himself. He was our shadow throughout the day and a major snuggler at night -- we even bought a king-size bed so we'd all fit more comfortably. I could write on and on about our "Moosie."
When Max was diagnosed with a tumor in his heart we vowed to make his last months comfortable and special. A year later he was diagnosed with congestive heart failure, but the tests also revealed wonderful news -- the tumor was gone. So we were crushed when Max got sick again ten months later, in September, and we learned he had liver cancer. On October 16 he let us know it was time to let him go. 
There are so many things we miss about our big doggie. We are heartbroken without him. But we are so thankful for the time we did get with him, and the love we shared.