Susie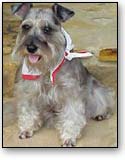 Susie - September 26, 2006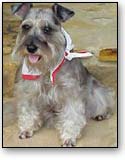 Susie - September 26, 2006
Judy & Mike Colvin's "Susie"
On Tuesday, September 26, 2006 at 12:00 noon EST, Schnauzer Susie arrived at the Rainbow Bridge.    
I adopted Susie when she was approximately two years old. She had been turned in to rescue with her two eight-week old Schnauzer pups. I could have taken one of the adorable puppies, but I knew they would easily be adopted. I took Susie. As my husband and I drove the two and a half hours home, I wondered at how different this little girl behaved sitting in my lap, looking straight out the front window of the car and not out one of the side windows as most dogs do. It would be the first of many things Susie would do that would amaze me.  
I had always wanted to be involved in pet therapy. Immediately, I knew this special little girl had what it took to be a therapy dog. Susie lived to please. I was able to obedience train her within a few weeks. She and I became Pet Partners with Delta Society only six weeks after I adopted her. (Delta now requires an adopted pet be owned for six months before being evaluated.) Even though I had never taught a dog any trick other than "shake," Susie somehow figured out what I wanted and learned numerous tricks. Honestly, I ran out of ideas of tricks to teach her.  
I drove the car. Susie did the work. If we visited a special school or a battered women and children's shelter, Susie was perky and playful. In hospitals or nursing homes, depending on the type of patient she was visiting, she adjusted her demeanor. I saw her go from playing and performing tricks for one patient to the next room where she would lie quietly by a terribly ill patient. With terminally ill children, she licked their faces and washed away their tears.  
Susie changed my life. Through involvement in pet therapy with Susie, I made dear friends. During Susie's life my husband and I moved to two different cities. Through Susie's therapy work, I met dog lovers that expanded my world and animal experiences.
I stopped keeping count after Susie had visited 3,000 patients. As much as she gave as a therapy dog to others, she did her best therapy work at home. During her lifetime, both my husband and I lost our parents. Only seven weeks ago I lost my beloved aunt who meant the world to me. Susie has been my therapy dog and washed away my tears. 
Susie is not here today to wash away my tears and my heart is broken. Still, my husband and I are so grateful to have had the blessing of her sweet spirit in our lives.
Susie will not be waiting for me at the Rainbow Bridge. I reminded her Tuesday where she should go. She was always so obedient; I know she did as she was told. If you would like to know where Susie is please visit www.deltasociety.org. Click to enter the web site. Click on the green box that says pet partners. It will scroll to articles. Click on articles, and then scroll to Susie's Angel near the bottom of the page. With out my heart dog, Susie......Judy Colvin