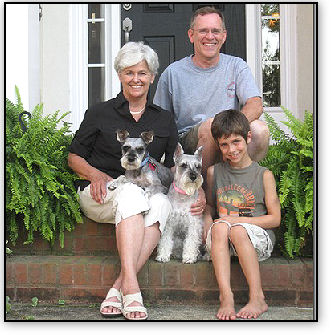 PUMBA (now MOLLY) & MAX
Pumba, pictured in the center with cropped ears, was lovingly fostered in Melbourne, FL by Pat. and Max, on the left, was lovingly fostered by Joan and Paul in Marietta, SC.
Sandy and Mick who live in Georgia has lost their elderly boy mini not too long ago and their hearts were finally ready to love again and this time they would double their joy by adopting two seniors.  Beautiful Molly is 10 and Max is almost 8.  Two dogs who had never met found a wonderful home where they are happy to have a furry friend and a loving family.  The little boy is Sandy and Mick's grandson who is also thrilled to have two new dogs to visit. Sandy and Mick report that everything has been wonderful with their new family and they could not be happier.
THE BEST IS YET TO BE FOR MOLLY & MAX!!!