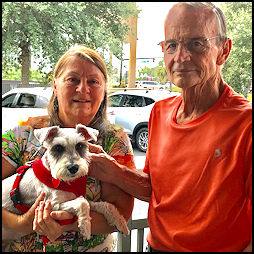 SUGAR BABY now BETSY
|
Sugar Baby was lovingly fostered by Joy in FL.

Sugar Baby, now Betsy, is enjoying the good life with Linda & Larry. Betsy has a new canine sister, Stevie, to play with and a feline sister, Helen. Betsy is still not sure what to make of Helen. Linda has so many adjectives for Betsy – loving, sweet, obedient, and snuggly. Linda & Larry just celebrated their 25th Wedding Anniversary. Instead of silver jewelry they opted for a silver Schnauzer! Great choice!