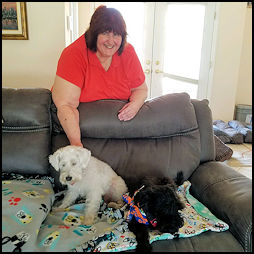 ZIGGY & FRITZIE

Ziggy was lovingly fostered by Molly & Ted in Dover, FL.
Fritzie was lovingly fostered by Linda in Ocala, FL.
Ziggy & Fritzie are enjoying their new pack as they explore their backyard and new neighborhood together. Lori & Harold stated both dogs acclimated to their forever home so quickly. Both boys love having a large fenced-in backyard to run in or to just enjoy being outside in the warm weather. Fritzie enjoys looking out the front window to keep surveillance on the neighborhood. Ziggy is enjoying his new toys and being a Velcro dog to Harold.