Frankie: "I've got Sunnyyyyyy on a cloudyyyy day".
Sunny: "Shhh, Frankie, you're embarrassing us!"
Frankie: "Well how else are they going to remember that we are bonded and have to find our future home together?"
Sunny: "Good point, that is super-duper important. I can't wait to start our new life soon! Together!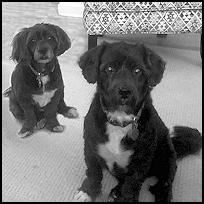 Frankie (male) and Sunny (female) are a bonded pair of ADORABLE and SWEET schnauzer mixes. They are both close to 9 years old but have plenty of spunk left to share with their future family. Frankie is the larger of the two, weighing in at 33 lbs. While Frankie and Sunny (a light weight at 21 lbs.) adore each other, they have also done very well with their foster sister, schnauzer Gracie. This pair is simply a dream come true for many adopters. They are completely house trained, crate trained, and leash trained. Their temperaments are extremely well-rounded – they don't seem to have any apparent fears, quirks, dislikes, or destructive tendencies. They are not big barkers. Frankie has some arthritis in his back legs/hips, but we can talk about what managing that with meds looks like if you apply to adopt these two. Sunny is in excellent health!
------------------------------------------------------------------------------------------------------------------------------------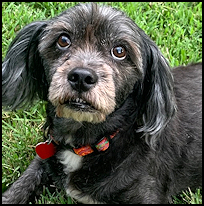 Frankie: Ughhhh, they're making me sound like an old man! I am a ball of fun even if I'm alittleee stiff some days, right Sunny?
Sunny: Right, brother! Ooh, ooh, let's talk about some fun stuff now!
Frankie: What sort of fun stuff, Sunny?
Sunny: You know…our favorite toys, the car, walks, the yard!
Frankie: Great idea Sunny, I'll start - I LOVE a chew stick and carrying around a soft toy.
Sunny: I love a chew stick TOO. We can share, but it's fun when we each get one, hehe.
Frankie: We love taking our chew sticks in the yard. The yard is SO fun. We love running around, playing, and exploring.
Sunny: But we'd be happy with lots of walks and outings by car, too. We've lived in an apartment before, so that is alright with us!
Frankie: Oh my goodness we just adore the car. Adventures, here we come!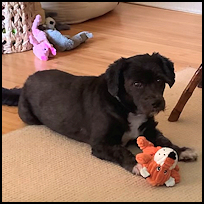 Frankie and Sunny have been so very loved by their foster family. Foster mom calls Frankie "Frank the Tank", and says he is a "sweet boy who is friendly, eager to please, and loves being next to you. He wants nothing more than a cuddle or scratches. He eats really well and loves a treat or two. One funny thing about Frankie is that he poops on the concrete. Not always, but
that seems to be his preference. That would make him an excellent city dog…easier to pick up when walking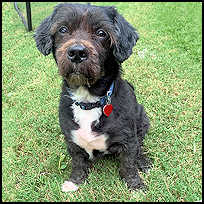 Sunny or "Sunshine" is "friendly, sweet, and wants to be in your lap. She loves belly rubs. If she even THINKS you might give her a tummy rub, she is down and rolling over. So cute! Sunny is a pickier eater.Sunny is totally bonded with Frankie, as Frankie is with Sunny. They are good together and act just like you think a brother and sister should. Sunny is the sassy sister who just rolls her eyes at Frankie, the pesky brother! Sunny absolutely loves being outside, like Frankie. These almost 9-year-olds are neutered/spayed, up-to-date on their shots, house-trained, leash-trained and just a dream team. If you are interested, please go to www.schnauzerloverescue.net and ask for Frankie and Sunny in Tennessee!