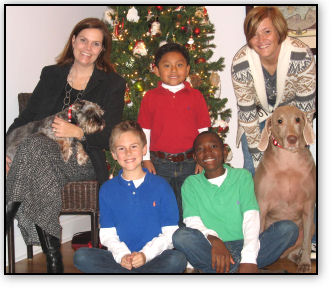 JAYDEN now FINLEY
Jayden had been fostered and loved by Mary Sue Lovoy in Pinson, AL until his adoption.
He was recently adopted by April and her family in Warner Robbins, Georgia. She has 3 sons, ages 5, 9 & 12, to play with him and to love on him. He also has a new doggie sister, Savannah, who was really anxious to get a new playmate. z
They are all very happy to be together! He has a new name to go along with his new home....Finley and is surely going to have a very loving and fun life!
THIS CALLS FOR APPLAUSE FOR FINLEY!!!