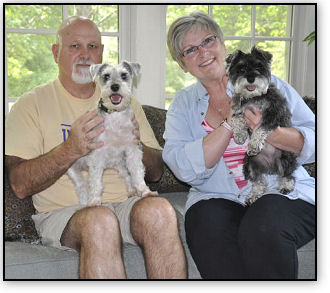 TWINKLE now LUCY

Twinkle was adopted by Mark and Kate of Fayatteville, GA, who wanted a pal for their little guy, Puggie, to play with.  You can see Twinkle, ready for action on Kate's lap, who had been lovingly fostered by Diana and Don of Marietta. 

Although just 8 pounds, she is a great little athlete, and has a non-stop, "Carpe Diem" attitude - she is always ready for action and a good time!   Her abundant energy and charm endeared her to her foster family, and helped her settle in quickly with new brother, Puggie, on the left.

Kate and Mark were happy to find Lucy, and she is so lucky to have found them - a loving home,  and a friend to romp and play with.

LET THE GOOD TIMES ROLL- LUCY!!!