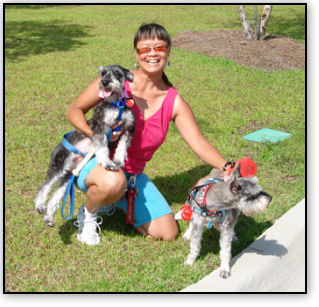 BELLE now BRIDGET
Belle was being fostered by Dot in the Florida panhandle. On May 28th, she became part of her new forever home with her new Mom, Thi-Anh, and her fur brother Sebastian.

Thi-Anh has decided that Bridget is a better name for this pretty girl. This is Thi-Anh's second adoption from Schnauzer Love Rescue. She adopted her Sebastian, now 10 yr. old, from SLR in 2009.

Bridget is being held by Thi-Anh and Sebastian is checking out the area.

HAPPY TAILS, MISS BRIDGET!!!