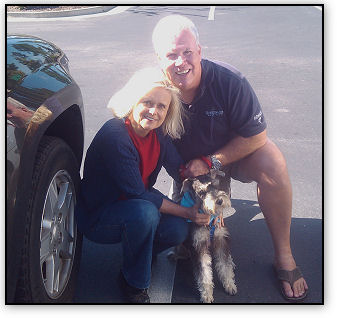 SCOOTER
Scooter was fostered in Marianna by Dot. He was becoming one of the pack there, and was slowly trying to move his way up in the pack order to number one, above the four Schnauzers who live there.

Before that happened, he was adopted on October 28th by Bobby and Kip. Now Scooter is enjoying being an only dog with all of his new parents' attention lavished on him. Bobby has reported that Scooter is enjoying long walks with his new Mom, and still being Scooter, trying to get into any food that he can find! He is well loved.

WAY TO GO SCOOTER!!!