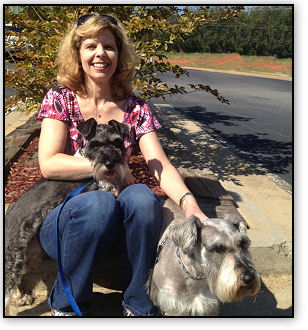 BANDIT now KESSLER

Bandit, now known as Kessler (Kess for short) was adopted on October 6, 2012, by Tim and Barbara from Richmond Hill, Georgia. He was fostered by Matt Hallman and Daniel Bracken from Odenville, Alabama.

Bandit (on the left) is pictured with his new Mom, Barbara, and his new brother, Cooper. Bandit is looking forward to his second chance at a new life.  He was taken in as a stray from the Huntsville, AL area. Barbara's parents also recently adopted a schnauzer from SLR. Bandit now has an extended schnauzer family that will keep him happy and playful for many years to come.

WAY TO GO, BANDIT!!!