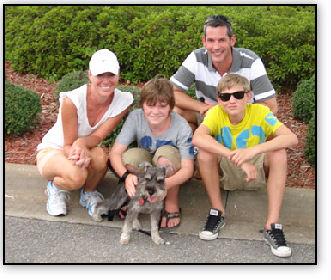 MIKEY

Mikey was fostered by Dot in the Florida panhandle. Mikey had a great time running circles around the other Schnauzers at his foster home. He finally convinced the youngest to play with him.

On Saturday, July 28th, he was adopted by Jami and Ken, and their two boys. As you can see in the picture, it was love at first sight. Their youngest son pronounced Mikey the perfect dog!

Jami reports that Mikey is doing well and that they really love him. He is enjoying nice long walks twice a day, and meeting the dogs and children in his new neighborhood.

NOTHING BUT BLUE SKIES FOR MIKEY!!!