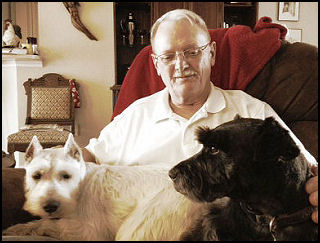 ZEUS now DEUCE

Zeus was lovingly fostered by Louise in Merritt Island FL before being adopted by into his wonderful new forever home with Sharon and Bill n Ocala, FL. 

Zeus has been aptly renamed Deuce, since he is always together with his schnauzer brother Fritz. The make quite a pair. They jump and race all over the yard until they are tuckered out. Sharon tells us Deuce has found pine cones are the best thing ever and brings one in almost every day.

Sharon and Bill consider themselves the "fortunate ones" to have such a wonderful dog. They are having so much fun with him. He has been everything they could have hoped for. Deuce is pictured here with Bill and also with Fritz. 

LOTS OF TAIL WAGS AHEAD FOR DEUCE!!!