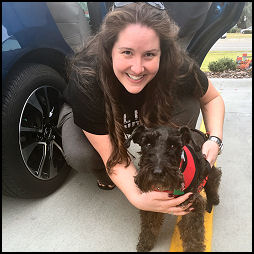 CHANDLER now LINCOLN

Chandler was lovingly fostered by Amy, in Pensacola, FL.
Even though it was a long ride, Chandler enjoyed the day as he knew he was on his way to this forever home. April and her mom, Susan, of New Port Richey were already in love with Chandler from everything they had heard and the pictures they had seen. When Chandler arrived at his final destination, he was met by his 3 Miniature Schnauzer Siblings – Holly, Teddy, & Reagan. Talk about a Super Pack! Thank you April & Susan for once again adopting from SLR and spoiling another Miniature Schnauzer!