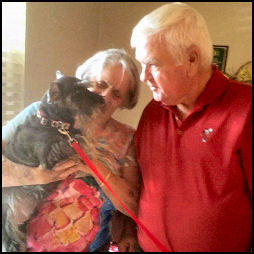 FRANKLIN
Franklin was lovingly fostered by Autumn, in Casselberry, FL.
Franklin was happy that his foster mom's home was called, 'The House of Pawz.' Autumn is the official groomer for the Florida SLR dogs and so Franklin always looked his furry best.
When Joan & Joseph visited Franklin, they knew he would be going home with them. Twelve pound Franklin, loved that his new mom sat on the floor with him so that he could crawl up in her lap. Joan states that Franklin quickly figured out,which door to go to when he just wants to go out back and which door to go to when it is walking time around the neighborhood. Franklin also loves having his own golf cart so he can ride around the neighborhood with his mom and dad.