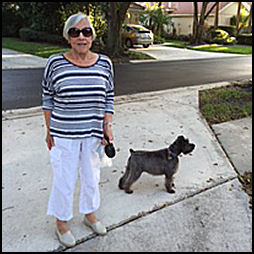 MR. NOODLES now MR. NEWMAN

Our 'Magnificent Mr. Noodles' was fostered by Sybil in Gainesville, FL.
Mr. Noodles settled right in to his Forever Home with Pat of Palm Beach Gardens. He is enjoying his lanai as he has a 'bark off' with the dog next door. He is hoping that his barking will also chase those pesky squirrels and ducks off of his lawn. Pat says that Mr. Newman loves his daily walks and hasn't met a dog or its human that he hasn't liked.