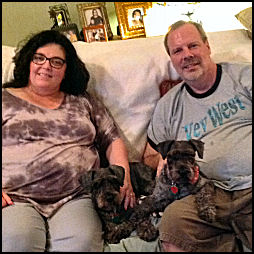 BUDDY & EMMA

Our 'Loveable Buddy & Emma' were fondly fostered by Terri, in Valrico, FL.
Two years old Buddy and his 3 years old mother Emma, were thrilled to meet their new Forever Family, Tammy & Allen of Tampa, FL. Tammy & Allen had recently lost their 14 year old Miniature Schnauzer, Heidi, to heart failure. Tammy states that Buddy & Emma have helped to fill a deep hole for them. They are very pleased and feel very lucky that these two dogs chose them.
I think Buddy and Emma are feeling the same way about their new parents!