Chickpea is small about 9 pounds, She is good with other dogs and cats too. She is blind so she needs a fenced yard and not too many steps to navigate. Her foster mom wants her to have another dog and/or a cat for her to cuddle with and take her cues from. Here is a poem her foster mom wrote about sweet little Chickpea.
Chickpea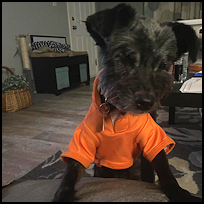 A teeny senior baby, cute as can be
You can call me lil' Chickpea.

I'm small, smooth, and black
You best not forget my midnight snack!

I love belly rubs, bean bags, and cats.
I've just enough spunk and just enough sass

Without my eyes, I'm super unique.
Yet I'll surely find the space between your feet.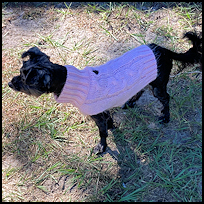 I can still stare right into your soul,
And being with me will make you feel whole.

I love playing tippy tappy, rolling on the floor,
And I poke my nosey through every door.

With no teefies, I like my food warm and squishy
And while you're at it, might as well scratch my tushy!

I'm told I'm a precious companion, the talk of the town.
I want to be near you when it's time to settle down.

My tail is waggy, my spirit is strong.
I'm ready to be loved the rest of my life long.