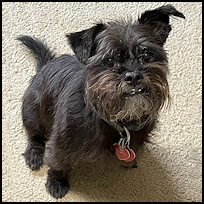 Meet Alex, a lady-loving fella who is looking for his forever home, which must be a female owner or owners. In the write-up below, you'll see a reference to *Prancer, the chihuahua mix social media sensation of 2021". To be perfectly clear, Alex is MUCH more lovable than *Prancer. And *Prancer got adopted, even though, he was referred to as a "Chucky doll in a dog's body."; The main thing they have in common is that they are chihuahua mixes, and Alex is a chihuahua/schnauzer mix which means he's super cute. The other thing they have in common is that they don't like everyone. *Prancer pretty much HATED everyone. But Alex is a charming little guy - as long as you are NOT a male human. If you are a female human, he will love you! And he likes other dogs. So,finding Alex's new home (only ladies need apply) should be a piece of cake!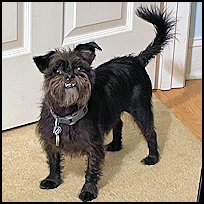 Hey, hi, hello future family, it's me, Alex! I am so excited to meet you. I am a teeny (10 lb.) 6-year old schnauzer/chihuahua mix. Some of you may remember the story of another very special little chihuahua, "Prancer," who found his forever home when his adoption ad went viral – oh how I hope I will be that lucky, too! Just like Prancer, I have some strong dislikes – one of which, unfortunately, is men☹ The hardest thing about being a rescue dog with some strong fears is we can't quite tell our loving fosters and future families in words why we have those fears – it can be a really sad and isolating feeling. But what helps to heal our hearts is when humans show us the love, patience, and care that we didn't have in our past lives.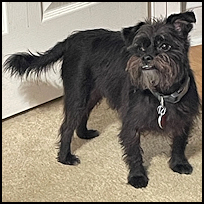 I've been so lucky to have found a temporary home with my loving and patient foster mom, her dogs, and even her husband. I don't try to be mean to him, I really don't, just sometimes when he approaches me I get flashbacks to my past, get scared, and bark or bite him. While my foster family has helped me make some progress with this intense fear of mine, perhaps I will get lucky like Prancer the chihuahua and find an only lady forever home. Wouldn't that just be amazing!??? Because besides my fear of men, I am truly a gem and would add so much love to your life. I am great with children and other dogs – I haven't been around any cats. I am crate-trained, potty-trained, and leash-trained. I even ride well in the car! My crate is my safe place – I really love going there when I am feeling nervous, or just to sleep at night. I'm not a big barker, although I will bark if my foster siblings do, and when I see a man, of course. I think I would do well in an apartment or a house, although I really do love running in my foster family's yard off-leash!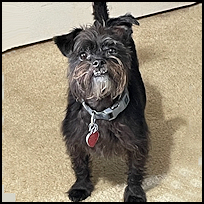 Of course, I'm up to date on vaccines, neutered, healthy and ready to go!!! My foster mom describes me as "very lovable, loves to be held, and loves to play with other dogs." I would do equally wonderfully as an only pup adored by my future mom, or with some siblings I can play with. I don't really play with toys, so your affection or the affection of my siblings is what I really want. Do you think you might be the perfect home for a lovable, spunky little 10 lb. guy like me? The story of Prancer touched the hearts of so many…maybe, just maybe, my story can be next? Us "picky" pups deserve forever happiness just as much as others do. If my story has you feeling the "you know when you know feeling" like Prancer's did for his forever mom, head over to our "Adopt" page, and ask for Alex in Tennessee! www.schnauzerloverescue.net