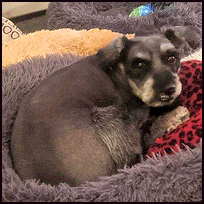 Cute Pie (Buddy) is Ready for his Forever Home

Pie is looking for his forever family; he's a cute, four-year old schnauzer, born with a cleft palate. His original owner terribly mistreated him. But, remarkably, he has learned to love, trust and enjoy life since he was rescued by Schnauzer Love Rescue. He is of course, neutered, up-to-date on his vaccinations and is house, crate-and leash-trained.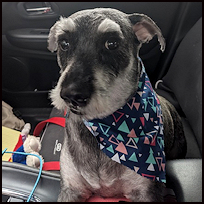 He's a different dog than the super anxious one we took in, and he still needs additional training, and a savvy, confident, loving and patient, schnauzer-experienced owner. If you think you are that type of owner, please read on and learn more about this little jewel of a boy, who just wants to be loved in his forever home.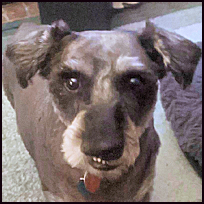 Although he is four, he behaves like a 6-month-old puppy in many ways. He needs a quiet home with at least one other doggie playmate. He flourishes in a routine so he knows what to expect. He has learned to deal with some chaos or overstimulation, but even so, he might need some guidance from his human that things are ok. If he misbehaves and is corrected, it hurts his feelings, but he has learned to bounce back. In fact, when he takes a time-out, he goes to his crate or another room with one of his beloved squeaky-toys. Pie uses his toys for comfort throughout the day. He thrives on routine and cues that help him to know what to expect. He has certain quirks that upset him and might cause him to nip. In fact, his fabulous foster mom knows those quirks and will share them with the adopter. Because Pie never wants to bite; he just reacts to those triggers. He is always remorseful and wants to do better. And few things are sweeter than to get a precious crooked smile from this little guy.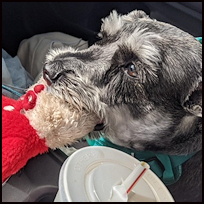 He's one of those little dogs that works his way into your heart and will be there forever. He is very vocal and talks a lot; he is super sweet, funny and charming. In fact, Pie is intuitive and closely watches for signs (e.g., your facial expression) that he is in trouble or if his person is upset. If his person is hurt, he wants to help, being close by.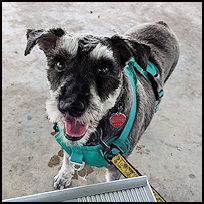 Pie takes medicine to help keep him calm. He is extraordinarily smart and learns very quickly. He will do best with owners who are home a lot; he has learned to handle separation, but he is still "in training," and will benefit from time with his persons. When he's left home alone, he does best in a medium to large room with a special treat and his favorite toys for comfort. He isn't suited to apartment or condo life because he needs a fenced backyard so he can run off energy.

He is a sturdy 30 lbs., and loves to play and is very physical. So, he needs owners who are sturdy themselves and fit enough to play ball (as in all the time) and tug with him. Pie has several Mr. Bill toys that are his "lovey." When he gets anxious, he will grab a Mr. Bill doll and chew on it. When he goes for car rides, he likes to have one with him to help calm him. He needs to sleep
in the same room as his owner because he needs to see you, even if he is on the floor in a doggie bed.(Once he's learned that his owner is the alpha in the home, he can be allowed on the human bed.) Pie's ideal home has no young children. He loves other dogs, and learns a lot from them. We recommend that his new owner take him for training sessions, which would allow Pie to interact with other dogs, see how they behave and give him the chance to bond with his new owner.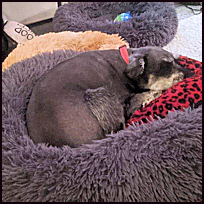 Pie loves visitors and has mostly learned to calm his enthusiasm with visitors. home and outside. Lately, he's gotten much better about being groomed and his foster mom has been grooming him herself some. But he still needs medication to see the groomer. He's gotten accustomed to car rides, and wants to sit in the front seat near you with his Mr. Bill toy nearby. He walks on a leash. Pie's new owner needs to have confidence in their ability to work with him; he's smart and if his owner is a push-over, it won't work. He needs a firm owner that expresses love and kindness. And he's also very food oriented, and very trainable. He just needs the right owners to help him continue to learn.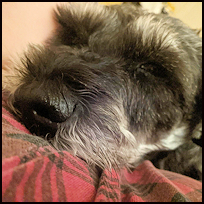 Pie earned a nick name from his foster mom, Shelly. She calls him Buddy because he is her little buddy, and she says he didn't like his old name from his old life. She also calls him Mr. Wigglebottom because he is such a happy little guy. Pie (Buddy) needs a home with adults who have a heart for rescue and have excellent training skills, as well and patience and experience with mistreated dogs. He needs a fenced back yard and someone with energy to keep up with him and who is home quite a bit. No young children and another dog are a must. It is difficult to put into words how far little Pie has come in his journey to becoming a regular schnauzer; he shows much love and affection and works every day to be the very best boy. He needs a special, loving home. If you are interested in Pie (Buddy) and meet all of his requirements, please submit an application for Pie in Tennessee