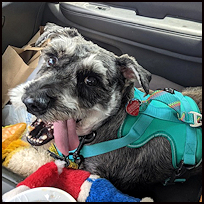 Some of you might remember the heartbreaking story last year of Pie, who was born with a cleft palate, and his breeder essentially saw him as a throw-away. He was given, as a newborn, to a family and the mom fed Pie with a bottle, around the clock. He survived, but at some point, his barking must have annoyed the man of the house, who took over his "training." This little schnauzer puppy's young life was dominated by the actions of a cruel owner who kept him locked in a laundry room wearing a shock collar. Fortunately, Schnauzer Love Rescue took ownership of him. Despite a life of abuse, three-year-old Pie still wanted to trust humans and give and receive love. Pie was never socialized properly nor trained, and had a lot to learn. He's a different dog than the one we took in, and he still needs additional training. And after 8 months with SLR, it is time to look for a forever home for him. He's a dog that needs a savvy, strong, loving and patient, schnauzer-experienced owner. Pie still has a tendency to bite in certain situations, which is why his new owner needs to be experienced and patient. If you think you might be the person who can adopt and love Pie while he continues to become the schnauzer he was meant to be, please read on.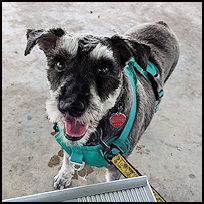 Although he is three, he behaves like a 6-month-old puppy in many ways. When there's too much chaos or stimulation, Pie has a tendency to misbehave. He gets ornery and aggressive, and the best remedy is a quiet time out and nap with his favorite toy. On the other hand, he is most loving and loyal. He's one of those little dogs that works his way into your heart and will be there forever. He can be super sweet, funny and charming. In fact, Pie is very intuitive and closely watches for signs (e.g., your facial expression) that he is in trouble or if his person is upset. If his person is hurt, he wants to help, being close by.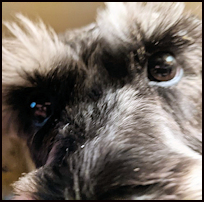 Pie is neutered, up-to-date on all his vaccinations, house-trained and is ready for his new family. He takes medicine to help keep him calm. Pie is extraordinarily smart, and he learns very quickly. He is very routine-oriented, because he needs to know what to expect. He will do best with owners who are home a lot; he has learned to handle separation, but he is still "in training," and will benefit from time with his persons. When he's left home alone, he does best in a medium to large room with a special treat and his favorite toy for comfort. He still screams at first when left alone, so he isn't suited to apartment or condo life. Besides, he needs a fenced backyard so he can run off energy.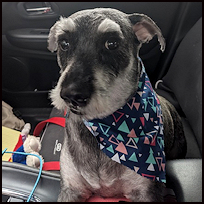 He is a sturdy 30 lbs., and loves to play and is very physical. So, he needs owners who are sturdy themselves and fit enough to play ball (as in all the time) and tug with him. Pie has several Mr. Bill toys that are his "lovey." When he gets anxious, he will grab a Mr. Bill doll and chew on it. When he goes for car rides, he likes to have one with him to help calm him.
Pie is a quirky little guy and his foster mom, Shelly, is creating an "owner's manual," for his new parents so they will know what makes him happy, what frightens him and how to handle those situations. Pie loves to sleep in the same room as his owner; he needs to see you, even if he is on the floor in a doggie bed.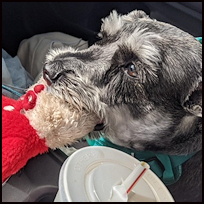 Pie's ideal home has no young children. Pie loves other dogs, and learns a lot from them. In fact, because he did not get to learn from his litter mates or other dogs until recently, he would greatly benefit from another dog sibling in his new home. That dog should be well-trained and playful, so that Pie has a playmate and so that he can be mentored by his new sibling. Pie has a tendency when he is anxious to want to take control of his environment, which means he sometimes wants to bully the other dogs. A good, sweet dog that lets him know he's not in charge would helpful to him. Also, we strongly recommend that his new owner take him for training sessions, which would allow Pie to interact with other dogs, see how they behave and give him the chance to bond with his new owner.


Certain things scare him and he will bark and scream. For some reason the shadows from lightening cause him anxiety. The crash of lightening isn't a problem, but the shadows that show on the wall or floor frighten him. A night light really helps. Over the past few months, he has become more and more welcoming of visitors in the home and when he visits the vet. In fact, he's now very excited to meet new people inside the home and outside. However, he's still not a fan or getting groomed and needs additional medication for that.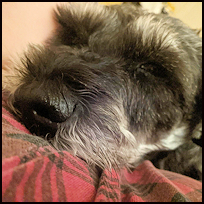 He's not the best car-rider, but is learning, and wants to sit in the front seat near you with his Mr. Bill toy nearby. He walks on a leash. Pie's new owner needs to have confidence in their ability to work with him; he's smart and if his owner is a push-over, it won't work. He needs a firm owner, that expresses love and kindness. And he's also very food oriented, and very trainable. He just needs the right owners to help him continue to learn. Oh, an added bonus is that Pie loves to watch Star Trek, so his foster mom says he has great taste!


Pie earned a nick name from his foster mom, Shelly. She calls him Buddy because he is her little buddy, and she says he didn't like his old name from his old life. She also calls him Mr. Wigglebottom because he is such a happy little guy. Pie (Buddy) needs a home with adults who have a heart for rescue and have excellent training skills, as well and patience and experience with mistreated dogs. He needs a fenced back yard and someone with energy to keep up with him and who is home quite a bit. No young children and the right kind of canine siblings. It is difficult to put into words how far little Pie has come in his journey to becoming a regular schnauzer; he shows much love and affection and works every day to be the very best boy. He needs a special, loving home. If you are interested in Pie (Buddy) and meet all of his requirements, please go to our website at www.schnauzerloverescue.net and submit an application for Pie. His foster mom is in AL and his adoption will be coordinated through TN.