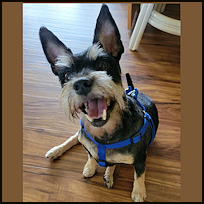 Toby is very thankful that SLR rescued him from a shelter. He is approximately 5-6 years young. He is being fostered in FL. If after reading his biography, you are interested in knowing additional details about Toby, please complete an adoption application on the SLR web site and enter Toby as the young dog you would like to provide a forever home to.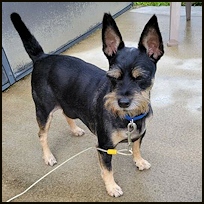 Toby is a sweet, young boy. As you can see from his handsome pictures, he is a mix. He sheds moderately. He is black & brown and weighs 19 lbs. He has natural ears and a natural tail. He is house trained and leash trained – no crating for Toby. Of course he is neutered and up-to-date on all of his shots. He knows the commands, 'sit,' 'come,' and 'cookie.' When getting his 'cookie,' he does a little dance by standing on his back paws and begging with his front paws. Toby is a snuggler - he loves to be on your lap as you pet him. He is not an Alpha and enjoys playing with the foster's dog. When on his walks in the neighborhood, he loves to meet the other dogs with a bark and a sniff.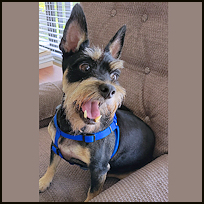 As you can see from his pictures, Toby's remaining teeth are pearly white. He had several removed during a dental. When speaking to Toby, he will turn his head towards you as if listening and understanding every word you are saying. Toby loves his foster mom but will warm up to men after they talk to him and pet him. No young children or felines for this young boy.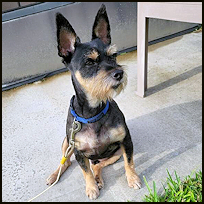 Toby needs a home with a fenced-in yard, as he loves to roam the backyard and enjoy all the wonderful smells in his neighborhood. He will also alert you if something does not smell just right! In the house, he enjoys sitting on the back of the couch and looking out the front window. He will let you know if anyone is getting too close to 'his home.'


If you are confident that you can meet ALL of Toby's needs, please go to our web site and complete an adoption application and enter 'Toby' as the sweet, vigilant dog you would like to offer a forever home to.