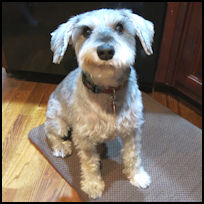 Lanier is being fostered in Northeast Atlanta, Georgia. After you've filled out your application and had your phone interview you can contact my foster mom at tcarloss@bellsouth.net for more information.
Hi, I'm Lanier, and I'm about 8 years old. We don't know my exact age so I could be a little older or a little younger. I was found in a park here in GA at Lake Lanier and so that's how I got my name, Lanier. I like my name and respond very well to it.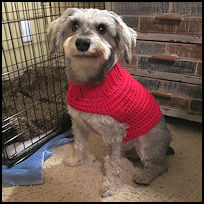 I weigh 24 lbs, have a docked tail and natural ears. People tell me I'm cute. I have been neutered, and I'm current on all my shots. I'm a very loving dog who likes a lot of attention. I love to play with people and other dogs. I would play nonstop with my foster mom's dog if he didn't get tired of playing with me after awhile. I love to go for walks, and I walk very well on a leash. I also ride very well in a car. As with a lot of schnauzers, I do like to bark so I would not be well suited for apartment living with nearby neighbors.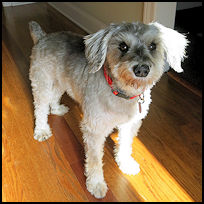 I am a very observant boy who likes to please his people. How many dogs are like me and come inside every single time when called? Not my foster mom's dogs, for sure. I also know my sit, down and shake commands. Oh, and I'm fully house trained!! I guess you could say I am a real catch for some lucky person wanting a buddy.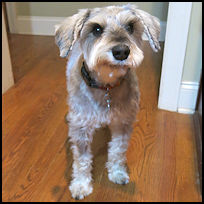 When I was found, I was very malnourished and my teeth were in terrible shape. Before I came into rescue the sweet lady that found me took me for a dental, and they had to remove all my teeth. But it doesn't slow me down one bit. I eat regular dry food with no problems. And I have a cute little smile as you can see in my photos. I am a pretty healthy boy. All of my blood work came back good.
So if you're looking for a loving and playful companion who'll stay by your side and give you unending love, then you might be the perfect fit for me! Fill out an application and ask for me by name! I'm Lanier!!!