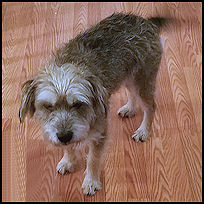 Willie is being fostered in Matthews, North Carolina. If you are interested in Willie, fill out an adoption application. After you have had your phone interview you may contact his foster mom for more information at donnamuse1026@gmail.com

Willie is a 5-year-old Schnauzer mix with natural ears and tail. He is grey brown in color and weighs 29 lbs... His previous owner passed away and he was taken to a shelter where SLR rescued him.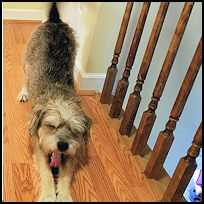 Willie is a very sweet dog and wants to be the center of attention and will nudge his way into the space of the other dogs to get it. He often gets quite vocal and lively to get your attention if you are petting another dog or sometimes to just to get you to notice him. Willie follows his foster mom everywhere; she thinks he does that just in case there is food or snacks to eat. He eats very quickly and will try to steal the other dog's food. But he listens quite well when the word "no" is used.

Willie is mostly house trained, and also crate and leash trained. He was good at the vet and for his groom. He sits quietly in the car, but is a bit apprehensive at first. He is a good eater and likes his food and treats.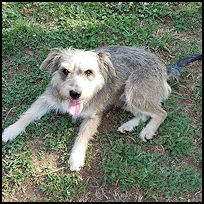 Willie needs a home with another dog to play with because he loves to run and rumble with dogs his size and tag teams with one of the other two dogs and later becomes the target himself. They wrestle in the yard and in the house where there is room. He also enjoys playing with people, but no young children. It is unknown how he is around cats but foster mom says probably not. No stuffing type dog toys since he will tear them apart to take the stuffing out. Willie has just been neutered so his testosterone level is still high and he wants the other dogs to know he's the boss. But once he gets to know the other dog, it's play time.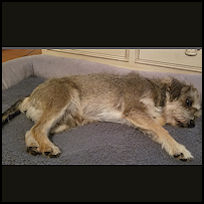 Willie is up-to-date with shots, heartworm negative, and on heartworm preventatives. He is being fostered in Matthews, NC. Don't pass up pn this happy boy so when submitting your application, please list Willie as the dog for you!