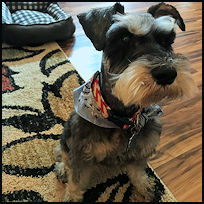 It has been my pleasure to foster Snickerdoodle (Snicker) and Poppy, a bonded pair of mini-schnauzers. Poppy is a salt & pepper 7 year old spayed female, Snicker is a 6 year old black neutered male. If after reading about this pair you think you would like to add them to your family, please fill out an application requesting them.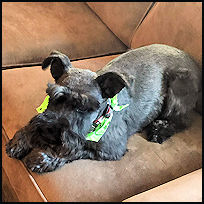 Both Poppy and Snicker have been vetted, are up to date on vaccines and on heart worm and flea prevention. This pair is in great health. The only issue is that Poppy is blind. Even though Poppy is blind it is very difficult to detect. She moves around the house with complete confidence, follows your voice and your movements. Snicker does sometimes act as her "service" dog and helps her find her way in a new environment.. He is also very protective of her around other dogs, but they very quickly adjusted to our sometimes chaotic home.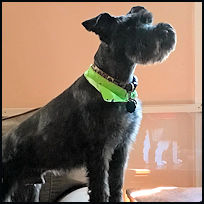 They are house broken and very loving. I have seen Snicker play with our little schnauzer, but neither of them show much interest in toys.


You will frequently find them curled up together in the same dog bed or on the sofa. These two are very special babies. The groomer said they were a dream to groom, they ride well in a car and get very excited when you pick up their leashes.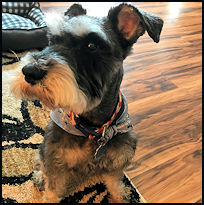 If you can find it in your heart to make room for these two you will not be sorry. They are truly a joy to be around, so don't wait. Please fill out an application and ask for Snickerdoodle and Poppy. They are a bonded pair and must be adopted together.