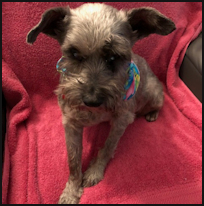 A Willow Tree is seen as a survivor. It gives a sense of hope and a sense of belonging and safety. SLR was called by a FL shelter and asked to take sweet 'Willow' into our rescue. She was turned in as a stray. Willow is a senior lady (11-12) in Jacksonville, who needs to know that her life has meant something, that she belongs to someone and that she is loved. That truly is what rescue is about.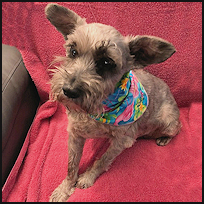 Willow is dark grey, weighs 18 lbs. has natural ears and a docked tail. She is spayed and up-to-date on all vaccines. She is fine with the foster's dog and when meeting other dogs on her daily walk in the neighborhood. She would also be okay as an only dog. Willow is crate trained and leash trained. She can be shy when meeting new people. Willow likes to be scratched behind her ears and rides well in a car. She had a dental and lost 6 teeth. She would do best in an adult only, forever home.



Willow is very mild, has some hearing issues along with some arthritis. She drinks a lot of water and has been tested for Cushings. Her test was negative. Due to the amount of water she drinks, it would be best to have someone who is home during the day and can take her outside as needed. She enjoys her two meals a day, a few treats and her nap time. Willow needs a special adopter who will show her much love and kindness.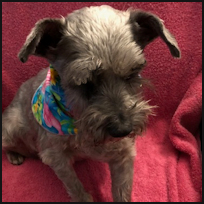 Happiness is to feel safe, to be fed, to be clean and to have a soft, warm bed. Happiness is to know that your life has meant something, to be loved and to hear your name said with love. 'Old is not an ailment – Old is old!'


If you feel you are the loving family that Willow is searching for, please complete an adoption application and enter 'Willow' as the senior lady you would like to provide a loving, forever home to.
I may be older, but in my heart the dreams are still the same ~