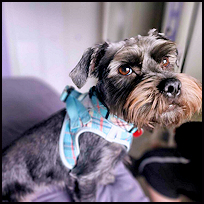 Puppy! Puppy! Puppy! Baby boy Vaughn (aka Cody) is everything you would think of when you hear the word, 'Puppy!' He is energetic, playful, loving, sweet and very smart. He is only 10 months old. He is gray/silver, weighs 17 lbs. He has natural ears and a docked tail. His teeth are 'pearly white.'


SLR was contacted by a local shelter in FL. Little Vaughn had a femur fracture in his left rear leg. He had to have a metal plate attached to his bone. His foster mom was taught how to do range of motion exercises for him. After two months and a final x-ray, Vaughn's leg is healed. The metal plate can stay in place. He is now able to be a very, energetic puppy!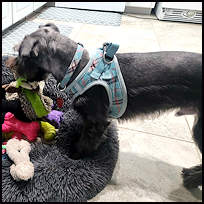 Vaughn is a hoarder with the (15) toys that he takes out of the toy box on a daily basis. He LOVES his toys – especially his antlers (digs them out of toy box first). He throws his toys up in the air, growls at them, runs back and forth with them in his mouth and then it is time for a nap only to wake up and do it all over again! It is very entertaining to watch. Besides playing with his toys, Vaughn loves to sit on the couch in his foster mom's lap and watch TV with her. If he sees any children or dogs on the TV, he will bark at them!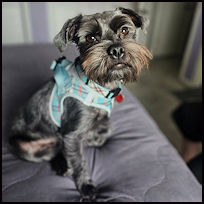 Vaughn sleeps in his playpen at night. If you tell him, 'it is time to go to bed,' he will walk right into his playpen. He waits for you to cover him with his blanket and then sleeps thru the night, dreaming of his Forever Family. Vaughn's Forever Family should have another playful dog that would enjoy some typical puppy play, a fenced yard and no young children.


If you feel you are the loving forever family that Vaughn is dreaming of, please complete an adoption application and enter 'Vaughn' as the energetic puppy you would like to provide a loving home to.