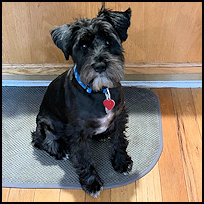 Dear Possible Forever Family, Ho ho ho, you can just call me holly jolly "Scotty" boy! ! I was born November 3 rd 2022, so I've only celebrated one holiday season before, when I was a little itty puppy. This season, I'm thinking my biggest wish might just come true - a loving forever family to celebrate EVERY holiday with. I can just see it now – my luscious black fur with my handsome white patch on my chest covered with a nice, warm, red plaid jacket or blanket to keep me warm – I'm 25 lbs., but I still may get cold. A fire roaring and dog-safe cookies, and then, a bunch of reindeer (*cough* I mean, schnauzer reindeers), run in to greet me. We run and play until the morning comes and it's time to open gifts (treats and toys are my favorite, but not too many treats, as I have a couple pounds to lose). My wish list includes at least one very active, playful doggie cause I love to play!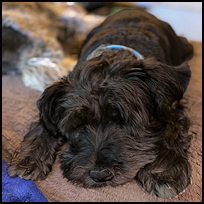 Speaking of playing, which schnauzer reindeer in Santa's pack is the "rowdiest" and "toughest?" Oh oh, and also gets petted the most? Oh and has a lot to say? Because I think that might be me. I have a rowdy and tough play style, though I do roll on my back quite a lot during play so clearly, I'm super sweet. I LOVE attention, and might push past the other schnauzer reindeers to be sure I get the pets or treats, too. I will "talk" to you to let you know what I'm thinking with a "chirpy, noisy demand." I got an A+ in barking class!


I wasn't so great in toy-making class because my favorite part about toys is destuffing them or chewing the ears off…I guess they want the toys to stay put together? I don't know why?! I do better in bone- making class because bones are made to be chewed, and they need a taste-tester sometimes. I am a very "chewy" boy, I like to chew most things, especially if I'm bored and don't have a doggie playmate. I also like to find little things to chew. Everything is so new and interesting. I am still a puppy, after all. I don't chew furniture, though; so no worries.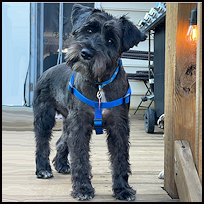 The hardest part about being a schnauzer reindeer in training is that I just get so scared sometimes. I can't remember much about my first year of life, but my foster mom thinks I was grabbed and handed around roughly a lot by some teenagers who weren't so nice to dogs. I get really scared when someone tries to move me on the bed, and I will hop away until I learn to trust you. I also get nervous someone is going to take something away from me when I don't expect it, so my foster mom has been "exchanging" treats when she wants whatever I have in my mouth. What scares me most right now are new situations, new people, and new noises. I also don't like when we see people or other dogs on walks, or on the other side of a fence. I've improved a lot since I came home to my foster mom, but I need a family that is willing to do a lot more schnauzer reindeer training with me to make me the best little schnauzer reindeer I can be. I do fine with grooming, but I do NOT like my face touched. I already get an A+ in potty and crate training, so we can take those off your to do list!


Santa and my foster mom say I am just a "big, giant nugget," whatever that means. Even the vet says I am going to be "one amazing dog," and I guess she's never been wrong. I am cuddly and sweet and give SO many kisses. I even play with toys by myself if no one wants to play with me by throwing them around in the air. I look forward to "flying" into your home soon. As soon as I pass schnauzer reindeer flying class, of course. I am neutered, up-to-date on all my vaccinations, crate-trained and love car rides. I must have an energetic, sweet doggie playmate. If you meet my requirements, please go to www.schnauzerloverescue.net and ask for me – Scotty in Tennessee! Love, Scotty