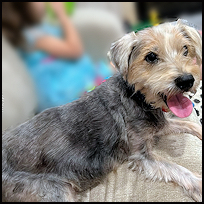 Can you feel it in the air? The season of "cozy" is here. Oh, what a wonderful time to bring home a new addition to the family who loves to cuddle more than anything else! Allow me to introduce you to sweet and loving Andy Warhowl! He is, of course, neutered, up-to-date on vaccinations and tests. And he's ready for his forever family!!!!!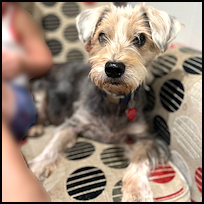 Andy is a 9 year-old, male schnauzer mix (schnauzer, terrier, yorkie) currently located in Germantown, TN. As you can see, along with that precious schnauzer face, he is a striking combination of tan and black, and weighs 29 lbs. Andy is house trained, crate trained, and leash trained. He would do well with other dogs in the household or even as an only dog. A forever home with adults or kids 5 and up would be best (Andy sometimes jumps when he gets excited). Otherwise, it's just important that Andy has access to a home or apartment where he can avoid stairs, as he does not take stairs all so well. Andy is not a big barker – he mainly barks when he is ready to wake up and go out or when he wants to get something he can't reach.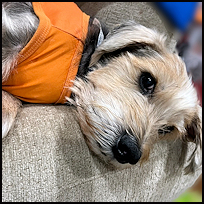 Speaking of frustration over things he can't reach, Andy is interested in anything and everything that appears to be a potential toy! He enjoys picking these objects up, though he refrains from destroying them. He is not pleased when you try to take back said object he should not have. Given this, it would be best to implement some strong management in the household (keep objects he should not have out of reach) so to avoid these situations in the first place! Close supervision of child interactions would also be
encouraged for this reason.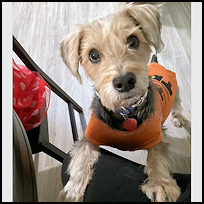 Now that we've covered some of the basics, let's get to the good stuff. Andy is a VERY sweet and loving little guy who just wants to be around his people. Foster mom says, "he will do whatever he can to put his head and paws on your lap." He is super treat-motivated, and loves going out for short walks, as well as trotting around the backyard. When he is around people, foster mom describes his temperament as "very calm and content." Though he is comfortable left alone for 5-6 hours at a time, we would love to see him with a family that is around a lot given his love for being close.


Andy has really blossomed in his foster home. He is now playing with the resident dogs AND toys, which he did not do before. We can't wait to see him continue to enjoy his new lease on life with a loving family of his own.


If you are interested in learning more about Andy Warhowl, we will be happy to chat; if you are interested in adopting him, please go to www.schnauzerloveresue.net and ask for Andy in Tennessee!