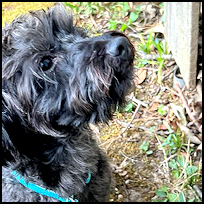 Coleman here; it is just about time for me to be adopted, so I'm writing up this bio myself. It's the first time I've ever done it, so don't talk smack about me if it's not perfect, ok? My plan was to start with my BEST qualities, but my bossy foster mom (I still love her.) says I have to tell you my stats first. But I'm going to spice those up for you. So here ya' go: I'm solid black – not that gray-black color – I'm ink black as the night. And I have curly hair that any young lady would love (yes, you should be jealous), I'm small - 11 lbs., with adorable floppy natural ears and a cute-as-a-button docked tail. I'm guessing I'm a schnoodle. I'm neutered (let's don't talk about it), up-to-date on all my vaccines. I've got an interesting medical history, given than I'm such a youngster (around 2 years old). Pretty soon, I'll be finished with my heartworm treatments, and I'll be a perfectly healthy little guy! I've not been able to get a haircut because of my treatments, but I'll be getting one soon!!!!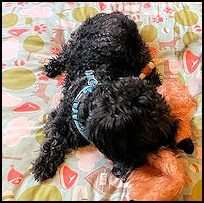 I am just happy-go-lucky and bounce when I walk. I am always up for an adventure in the car with you, and playing with my schnauzer foster siblings is just the most fun ever! I also love to play with my humans and explore around the fenced back yard. I do love to bark at the kitty, but I get fussed at for that. A lot of my silliness and excitement have been curtailed lately, though, since I'm being treated for heartworms (which we expect will all be gone soon!) I have to stay in my crate most of the time while the medicine kills those awful worms. I'm going to brag on myself, because I've been patient watching the world go by from behind bars. I've really gotten used to the crate because when I first got to my foster home, I had to have surgery to repair my leg. The vet man inserted pins and I had to wait in the crate for that to heal. Then I had to be neutered (again, no comment). It's been one thing after the other after that nice rescue lady got me from my first home, where they kept me chained to a tree in the FRONT yard. Those were some scary days, because just anyone or anything could come up to me, so I had to learn to bark LOUD and act FIERCE. I learned to protect my chew bones and other things, but the longer I'm in my loving foster home, the better I'm learning I can trust and not be so intense.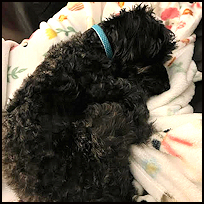 Foster mom says, I'm the perfect combination of silliness and cuddles, and I'm going to agree with her. I giggle inside when I grab foster mom's house shoe and take off running. I also love socks or anything that is hers. I don't chew up her things. I just want them with me. And there's always the chance she'll chase me to get her things back. Yahoo! That's so much fun! And when foster mom is on the couch or chair, I jump right up and make myself at home, curling up next to her or in her lap. Cause I want to be where my human is all the time.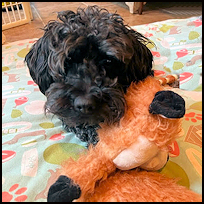 Foster mom says I have to fess up about this next thing, because potential adopters need to know. And that is if I find something I want to investigate outside (e.g., dig for), I'm going after it. I hyperfocus on the smell in the ground or the frog in the pile of bricks, and the next thing you know all you can see is my bottom and my wiggly tail since the rest of me is nose-down inside a big messy deep hole I just dug. I don't know why it's a problem, but evidently it is. So now foster mom only lets me go outside in the fenced backyard when I'm on the leash. That way she can redirect me much easier. Otherwise, I might growl and nip (never really bite) if she pulls me out of the hole. I used to do that in my original home; it's the only thing I liked about it. I could dig forever and nobody cared. But foster mom says I can't do that here. I guess giving that up is a small price to pay for having a fabulous home where I'm inside and get lots of love and pets, playtime, and good food. And every week that goes by, I trust foster mom more and more and she can more easily redirect my attention with treats or her voice.
I love when visitors come over, but I'll bark at them at first. If I get to greet them, I'm less likely to bark. Oh, and I bark at my foster siblings if they ignore me. Foster mom gets me to stop, but I'd rather just bark at them.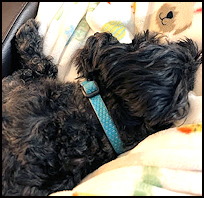 To summarize, I'll be ready the first week in December for my forever home. I have to have a doggie playmate. I'm crate-trained, leash-trained and house-trained (but I'm still kind of a puppy so foster mom keeps a close eye on me for that). I need to stay on the leash for a while to be sure the heartworms are all out of my body plus that keeps me from digging to China in the backyard. I just need an adopter who will be patient with me while I learn to trust and learn to be the best dog I can be. And once the heartworms are all gone, I'll be completely healthy! If you meet my needs and would like to apply to adopt me, please go to the website at www.schnauzerloverescue.net and ask for Coleman in Tennessee!