Abby is ready for her forever home!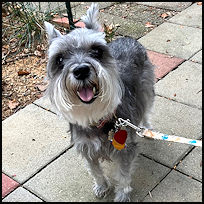 Hi SLR family, my name is Abigail Grace, Abby to my friends. I am a "foster crush" of many of the SLR Tennessee fosters and staff right now. They say it's a combination of how strikingly beautiful and sweet I am. Well, I'm flattered, and thankful to be adjusting to my new life. It's really scary as a 10-year-old girl to basically start all over. But my loving SLR friends have promised me that my golden years will be just that, golden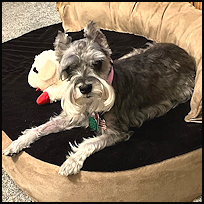 I am a gentle soul looking for a forever family that is calm and has a lot of "pets and scritches" to offer me. Because though I've gotten more used to toys (I really never played with them much), I still prefer to "just sit beside a human and be petted." My favorite toys are soft plush toys.They are cute and lovable, just like me!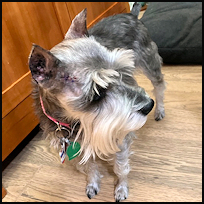 I am a really good girl that is house-trained, crate trained, and leash trained. I am comfortable left alone for up to 5 hours while in my crate. I haven't shown any signs of separation anxiety. Once I am accustomed to my new home, I can be left out around the house. I'm a pretty quiet gal and tend to keep to myself. I hardly ever bark, as I spend much of my time thinking, as a gentle, wise soul does.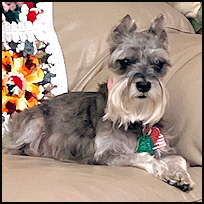 I would be happy to live out my golden years in the company of other calm canines such as myself, or as the "apple of your eye." I follow my foster mom around everywhere and really listen extra close to what she has to tell me, but I still do enjoy sitting with both of my foster parents in the evenings, especially on the furniture where I can get closer to them for maximum petting. I hear a lot of senior humans complain about their hair falling out as they get older – HA, I wish! My biggest woe as a senior schnauzer is that my hair is too beautiful and luscious, still. You know what that means…grooming. When I get nervous that the brush is about to hurt me, like when it catches a knot or mat, I nip at that evil brush to remind it of its manners. It would be best if you could just keep me knot-free by gently brushing me daily. And when it is time for my professional grooming, a nice sedative will help me get through it; I find it very stressful.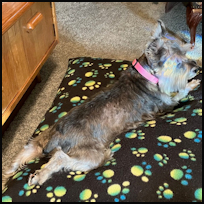 I'm not crazy about the groomer, but I do love the car rides there. I am an angel in the car. I am also a lovely sleeper, and love sleeping between my crate and dog beds; I especially love having a towel or blanket to "dig up" into a pile. My foster parents have been so very wonderful to me. They have gotten my health back on track so I could start showing my true personality. My foster mom describes me as "smart and cute and very inquisitive. Abby accepts being picked up when spoken to gently and likes to be with her people." The vet man says I have a mild heart murmur – level 1 or 2. I don't need medication for it and I had anesthesia for my teeth cleaning and sailed right through.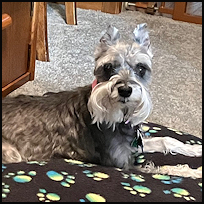 I hope you love me now that you've learned more about me. I certainly love thinking about YOU. I can't wait to ruffle up a blanket in my forever home very soon.

If you meet all of Abby's needs, go to www.schnauzerloverescue.net and ask for me in Tennessee!