Rocket's "First Day of School" Bio: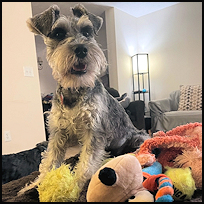 Hi, my name Is Rocket, and I'm in Tennessee! I am a 1-year-old boy, salt-n-pepper, and 16 lbs. I have a special need that requires medication and monitoring. Read on to find out more because it's important.

My favorite subject in school is "coffee stealing and food finding". Although I'm considering minors in "cuddling" and "herding". My best subject in school is, of course, "talking". I have an extremely impressive vocabulary for a young schnauzer and when something doesn't go my way I'll tell you all about it! My favorite teacher is my foster mom. I love her so very much. I tend to like women teachers more than men teachers. But with time and patience, I like most teachers.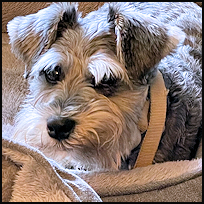 My favorite extracurriculars are "playing with my toys (especially plush toys)" and "fetching with balls or my toys". Not to brag, but I made varsity fetch as a 1-year-old. My coach says I'm "playful and directive" with some "mouthy" tendencies – makes for a great competitor if I say so myself! My best friends at school are my canine friends who let me be the boss and love being the sidekicks. I just fancy taking charge and having the spotlight on me. I'm not really interested in being friends with other dogs that are very bossy like me but I do love to play, play, play with my doggie friends. We've met some hooman kids on the playground. I like the calm, older ones. Hooman kids that are super-fast and unpredictable make me a bit nervous.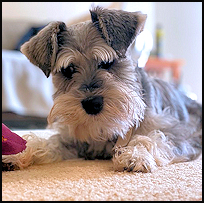 This year in school I am working on being less scared of new situations. Right now, I take a minute to feel comfortable and safe with new people or in a new environment. But my teacher thinks that with some confidence practice, I can be a most brave little schnauzer! Me and the other 1st-year schnauzers are supervised when alone because I guess the teacher doesn't want us chewing up all the pencils in the classroom…when we can't be watched, though, me and some of my classmates do great in our crates.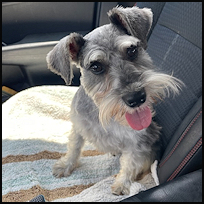 I'm "classroom trained" (house-trained) by now, but when that annoying "friend" Leo tinkles on the class reading carpet, sometimes I feel like marking my territory – HA, take that, Leo! And…every once in a while, when it's been too long, I may sneak off and have a little accident. Remember when I mentioned I have a special need? When I was about 8 months old, I started to dribble a bit of urine. The medicine I take really helps that; it doesn't affect my fun or plans to live a good long schnauzer life but I do need some special care.

Here's what my report card said last year about me "Rocket is a sweet, sweet cuddly boy with a super bossy streak. I think he will do well in any schnauzer-experienced home. He would love someone to play with. He is very sensitive to the environment around him and takes stress cues from other animals and people. I would say he leans towards the anxious side so when he or others feel anxious, he gets very excited (intense). Also, he will find something in the bottom of a basket that you didn't know was there, like crackers from 1992. Overall, he is just so much fun."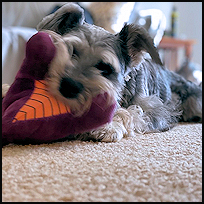 I can't wait to show my report card from this year to my future family, soon. It needs to be a family that loves me and is ok with my special need. My teacher says I'm super adorable and loving, I'm so worth it. If that is you, please go to the SLR website at www.schnauzerloverescue.net complete an application and ask for Rocket in Tennessee!